Have you ever needed to delete every other row in Excel? You are not alone.
There are a few ways to accomplish it. It's a pretty good candidate for a VBA solution, but I'm going to show you how to quickly delete every other row without using VBA or a plugin. I won't make you resort to all of your data either.
This method of Deleting every other row centers around two different Excel functions
Flash Fill to create an Index.
Filter to identify lines to delete
Here is our sample data set. Let's begin removing every other row.

Step 1 – Create the Helper Cells
In a preceding column, Put a 1 in the first row and a 2 in the next row.
Right-click the bottom right corner of the cell and drag down.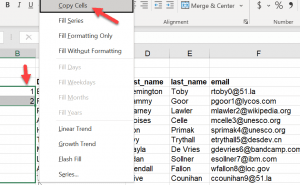 When you reach the bottom, the dialog box will pop up with a bunch of options. Choose "Copy Cells."
Great job! You just created an index or what my Excel friends like to call a "helper column."
Step 2 – Filter on just the twos
Title the column "Index" or anything you want.
Then filter (Ctrl + Shift + L) on the index column to only display the twos. Now you only can see the rows you want to delete. Let's get them out of here!

Step 3 – Delete the twos
Highlight all the visible rows (except the header!)
Shift + Space + Down Arrow. If you have a lot of rows, use Ctrl + Down Arrow. Then click Delete.
Step 4 – Unfilter

Every other row is now gone. I hope whats what you wanted! The undo command (Ctrl +Z) is there for you, just in case.